Mattie J.T. Stepanek Caregiving Scholarship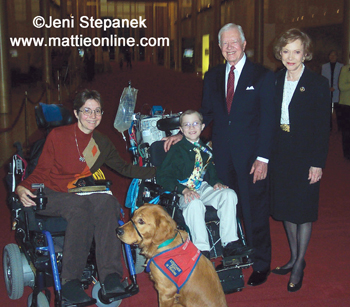 Mr. and Mrs. Carter with Mattie and his mom Jeni.
"If all generations of people freely and abundantly give care to others and to our world, we will have an eternal source of love and hope that fulfills the needs of all ages."
Mattie J.T. Stepanek, June 2003
The Mattie J.T. Stepanek Scholarships, named for peace activist Mattie Stepanek, provide financial assistance to family caregivers who are seeking educational or training opportunities that allow them to better serve in their role as caregiver. 
Mattie was a friend to both President and former First Lady Rosalynn Carter. During his brief life, Mattie became a poet and peace activist, championing the idea that "Hope is real, peace is possible, and life is worthy!" This caregiving scholarship honors his memory and his optimism.
When he passed away from complications of Dysautonomic Mitochondrial Myopathy, a rare and fatal neuromuscular disease in 2004, Mr. and Mrs. Carter wanted to honor Mattie's tremendous spirit. In 2005, the scholarships were born.
THE SCHOLARSHIPS
The purpose of the Mattie Stepanek Scholarships is to provide financial assistance to family caregivers who are seeking training or education in specific skills, procedures, and strategies that lead to more effective care while serving to protect their own health and well-being.
APPLICATIONS
Applicants should submit the following by September 15, 2019:
Scholarship application form.
If applicable, a resume sharing work, education history, and experience. (Please send by email to rosalynncarterinstitute@gsw.edu)
A statement describing your plans to pursue a specific course of training or education that reflects the purpose of this scholarship as given above. Include links to Mattie J.T. Stepanek's message of hope (see: www.mattieonline.com) and the mission of the Rosalynn Carter Institute for Caregiving. Do not just copy a quote or statement – we are looking for your personal reflections as they relate to these purposes.
Two or more letters of recommendation from individuals familiar with the applicant academically, professionally, or within the community. (Please have individual(s) send the letter(s) by email to rosalynncarterinstitute@gsw.edu or by mail to 800 GSW State University Drive, Americus, GA 31709).
Article Source:
Rosalynn Carter Institute for Caregiving
Last Reviewed:
Thursday, July 25, 2019
Back To List